Drug & Alcohol Interventions
Helping a loved one recognize their addiction can make you feel very powerless. Although it may be a difficult experience, it is your duty to take action. The intervention services at Free by the Sea have been the trigger for many men and women in the State of Washington to seek treatment.
When drug or alcohol addiction has stolen the hope and joy from your loved one, a professional intervention can provide the first ray of hope and lead to an eventual recovery. Intervention can be a powerful tool to help someone when rehab treatment is the only way to stop the cycle of drug abuse and alcoholism. Our intervention specialists at Free by the Sea will work with you to develop the best plan of action towards informing your loved one of the type of help they need for their addiction and what will happen if they don't seek treatment.
What is an Intervention?
Intervention is an opportunity for family members to lovingly but firmly confront the addict in a hopeful manner to persuade their loved one to turn to drug or alcohol rehab. In an intervention, family members can share their experiences and focus upon the negative impacts the addiction has had upon them and those around them. The process is conducted in an atmosphere of love and support that can help the loved one take the next step on the road to recovery. Often, those living with addiction and alcoholism simply need to know they are loved and supported in their effort to achieve sobriety.
In order to achieve the desired results of an intervention, it is important to consult with an intervention specialist before planning the meeting. Our intervention team at Free by the Sea is able to go through the process step-by-step to ensure that your loved one has the greatest chance of agreeing to receive help for their addiction. We will be there from start to finish; from guiding the planning of the meeting to checking your loved one into one of our facilities if they accept the offer.
Signs of Addiction
Before planning an intervention, it is important to acknowledge there is even a problem happening in the first place. Signs of addiction can be very easy or very hard to spot. It all depends on how the certain person is reacting to the substance they are abusing.
We have compiled a list of things to look for when you believe something just isn't right with the way your loved one has been acting, and some of the signs we believe indicate a substance addiction are:
Problem focusing on conversations

Bloodshot eyes from substance use or lack of sleep

Extreme mood swings

Fatigue

Irritability over the smallest issues

Denial of addiction

Loss of control of actions

Slurred speech and impaired physical coordination

Aggressive or violent behavior
If you believe that your loved one is exhibiting multiple signs of addiction like the ones above, you should strongly consider planning an intervention. With prolonged substance abuse, the longer they wait to receive treatment, the higher the chance that something could go wrong. An intervention could be the thing that ends up saving their life in the long run.
Step-by-Step Intervention Help
Step 1: Consulting with an expert. Our intervention specialists here at Free by the Sea are available around the clock to address any questions and concerns you may have about planning the most effective intervention for your loved one. We understand something of this magnitude can be overwhelming, so we offer our services to help plan every detail with you. By having one of our staff members assist in the setup, your intervention will have the highest chance of success.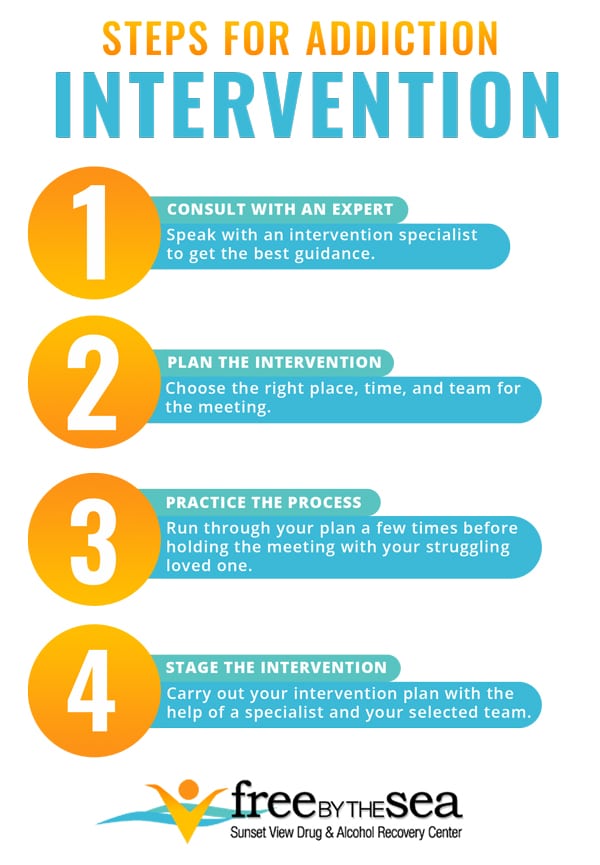 ​
Step 2: Planning the intervention. It is important to plan even the smallest details when deciding to stage an intervention. Gather information about the certain type of substance that is being abused, collect stories and advice from family members about how the addiction has affected them and arrange a time and place in advance for the intervention to take place. If you have recruited other family members to help with the planning, assign a task to each person so the process can be completed more efficiently.
Step 3: Practicing with family and friends. Practicing how the intervention is going to go before the day of the set meeting will allow for a smoother process. Gather a small amount of family and close friends that you believe will make the biggest impact on the affected individual's decision. Have them practice speaking about how their loved one's addiction has affected them, so they will know what to say on the day of. By allowing a practice version of the intervention to take place, there will be no surprises when conducting the actual meeting.
Step 4: Staging the intervention. On the day of the intervention, make sure everyone who is going to be present at the meeting is there before the addicted individual. Don't allow your loved one to know this is going to happen because that will allow them to back down from attending the meeting. Make sure they are sober from any substances the day of the meeting so that they have the best chance of remembering what was talked about with everyone. During the intervention, set boundaries for your loved one but also show them that they will not be alone on their road to recovery if they choose to receive treatment.
When is Intervention Helpful?
When deciding whether or not an intervention may be helpful for your loved one to agree to treatment for their addiction, consider some of the following:
You are angry and frustrated at the negative impact of addiction upon your family.

You require assistance in rallying your family to fight the addiction.

You are at a loss in knowing how to handle the addict's constant denial.

Your emotional involvement leads to confusion, blocking a reasonable response.

You find yourself feeling hopeless that things can get better.

At times, you convince yourself the problem will take care of itself.

You need good information regarding a treatment center and different options.

The chaos caused by the addiction is overwhelming to you.
People who are addicted to drugs or alcohol can be so lost in their addiction they cannot recognize that they need professional help to enjoy a healthy, fulfilling life. Our caring and professional staff at Free by the Sea can help your loved one finally face their addiction in a nurturing environment and begin the process of healing and recovery.
We have 77 treatment beds available for patients to occupy. In our facilities' certified substance abuse counselors, including licensed mental health therapists are there to help every step of the way. We provide you with high-quality evidence-based addiction treatment, that includes addictions like heroin abuse, dual-diagnosis, and gambling addictions. Our specialists use DBT, CBT, EMDR and trauma-informed treatment to address the underlying issues that may have caused the addiction. These include, but are not limited to, possible depression, anxiety, self-esteem and relationship issues.
Once our staff has determined the root cause of your addiction, you will be enrolled in relapse prevention therapies, relearn basic life skills, and participate in addiction education provided in groups and individual sessions. Our group sessions will include twelve-step meetings that immerse you into our community of individuals that are also going through similar situations. This will give you a support system within our facilities to lean on while you are completing treatment.
We offer all levels of care: residential, partial hospitalization, and intensive outpatient. Our campuses are some of the most peaceful campuses, with a safe setting located on five acres facing the Pacific Ocean. We have built multi-sport areas that include volleyball and basketball courts and an exercise room to encourage our patients to remain active and develop healthy lifestyles in between therapy sessions and treatments. We also offer nutritionally designed meals to restore patient's internal health while they are here.
Free by the Sea is Here to Help
Intervention is often the trigger people living with addiction need to motivate them to seek treatment. Through an open and honest dialogue about the effects of addiction, families demonstrate the love, support and hope they have for their loved one. If you or your family are interested in an intervention for a loved one, or if you have questions about our services, please contact us. Our addiction counselors are always available to help.
Choosing an intervention for your loved one can be a difficult choice. If you know someone who is living with addiction or alcoholism, please feel free to call us for more information. We are located in the beautiful State of Washington. Free by the Sea is nationally recognized for offering dual-diagnosis, professional treatment options, successful rehabilitation, and addiction treatments individually personalized for men and women of all ages. Contact us today to schedule your treatment.