The caring and professional staff here at Free by the Sea in the State of Washington stands ready to assist those with an addiction to crystal meth. Our rehabilitation methods can help you recover quickly from your meth addiction and restart your life. No one is a hopeless case because overcoming meth addiction is possible. Our professional, dedicated team is committed to assisting you through every step of the process of crystal meth treatment. We offer around-the-clock support to help you rebuild your life.
Serving the Nation, based in the Pacific Northwest.
Over one million Americans abused meth within the past year, according to the National Survey on Drug Use and Health. Crystal meth use is a national problem, and American families are searching for a solution. 
For people to start overcoming meth addiction though, they must first admit to having an addiction. They must then agree to receive crystal meth treatment. The loved ones of meth addicts must also be there to hold their addicted loved ones accountable. 
But how can you even tell that a person has an addiction and needs crystal meth treatment?  Well, look for the signs and ask the right questions.
An addiction is a multi-faceted problem that's comprised of a number of significant mental and physical symptoms. From loneliness to low self-esteem, to issues connecting with others, too much is on the line to let an addiction go untreated. 
What to Do If You Suffer From Crystal Meth Addiction
If you or a loved one discover that you suffer from crystal meth addiction, the first step is realizing that you can accomplish crystal meth recovery. Many people have been where you are and have successfully overcome meth addiction, leading to a fulfilling life. 
Although one of the first steps to overcoming meth addiction is realizing there is a problem, a support process must be in a place that's customized to fit your unique needs. Any chemical addiction affects both your body and mind. As a result, an individual's entire life starts to revolve around finding and using a particular substance. 
Your first step may have been experimenting with crystal meth or moving on from meth to another substance, but eventually, your body became totally dependent upon meth. 
Due to the profound, life-changing effects of crystal meth, addicts normally need around three months of professional treatment to recover permanently from the drug. Free by the Sea is ready to take you in for treatment if you're ready to take the first step.
What Is a Crystal Meth Addiction?
Pinpointing precisely when crystal meth use transforms into a full-blown addiction can be difficult. Although each case is somewhat different, there are some consistent signs of meth addiction.  
The main sign is that the addict continues to use meth when there are noticeable and negative consequences for doing so. Often times this also means that the user is experiencing major issues with his or her personal relationships, career, family life, or physical health.
What Are Some Signs of Crystal Meth Addiction?
Each meth addict reacts differently to addiction. While every user may not display every sign, some of the most common signs of crystal meth addiction include:
Paranoia

Insomnia

Moodiness

Legal problems

Lying about meth use

Cracking, discolored skin and sores

Difficulty maintaining stable relationships

A decline in school or work performance

Unexplainable increased energy or hyperactivity

Neglecting life duties such as errands, bills, and personal hygiene

Thinning hair, rotting teeth, and evidence of other signs of malnutrition
Addiction to crystal meth is characterized by the individual focusing on seeking out and using meth at any cost. The typical signs of meth dependency are the following:
Cravings

— A compulsive desire to keep using meth

Control Loss

— One cannot stop using the drug

Tolerance

— Increasingly higher doses are required to get the same effect

Physical Dependence

— Must continue taking meth to function
Are There Risk Factors for Crystal Meth Abuse?
Crystal meth use can have a dramatic effect upon an individual very quickly, affecting that person both physically and mentally. Crystal meth dependency can affect those of all ages, races, genders, religions, and socioeconomic groups. Certain risk factors can raise one's risk of becoming dependent, including the following:
Low self-esteem

Issues with mental health

Abusing other drugs, tobacco, or alcohol

A history of physical, emotional, or sexual abuse

Drug abuse within the family

Depression and anxiety
These risk factors can boost the chances of a person becoming a meth addict. There is no one way to diagnose which person will become addicted though. Should you notice any of these warning signs in yourself or others, professional assistance should be sought out immediately. 
Crystal Meth Treatment
No medication exists that can effectively treat a crystal meth addiction. Crystal meth is a very strong substance that creates very intense cravings during all stages of the withdrawal process. The withdrawal process of crystal meth is also very difficult. Still, a professional crystal meth treatment program can help an addict regain his or her life. 
Our caring staff at Free by the Sea offers a multi-faceted inpatient program that treats addiction side effects. Our inpatient program also treats the root cause of meth addiction. Since crystal meth is highly addictive, withdrawal can be very difficult for the addict. The intense stimulant affects the mind and body during withdrawal.
Some people should start crystal meth treatment with medical detoxification. During detox, a medical team watches over the person until all remaining traces of crystal meth are gone from the body. 
Family therapy is often recommended at this point, in addition to relapse prevention, personal counseling, and a variety of support and outpatient services. Family support is very important during this period of time to speed up the recovery process, intervention.
PLEASE NOTE: Free by the Sea DOES NOT provide crystal meth detox services. We recommend outside detox services and provide the recovery after the detox is complete.
At Free by the Sea, every staff member cares deeply about the patients that enter our treatment center. This is partly due to the fact that many of the Free by the Sea staff members are in addiction recovery themselves. Therefore, they can empathize with the addicts that enter into treatment.  
Another reason to choose Free by the Sea is that all of our doctors, medical professionals, addiction treatment specialists, counselors, and therapists are highly qualified. In fact, all of our substance abuse counselors are certified and all of our mental health therapists are licensed. Thus, you can trust that we are providing you the highest quality addiction treatment. 
Plus, there are very few treatment centers that offer as many services as we do here at Free by the Sea. Whether you're looking to attend typical addiction treatment and therapy, psychiatric services, aftercare support groups, or crisis intervention, we've got you covered.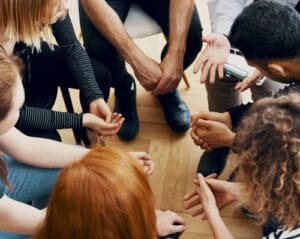 Our treatment center also makes sure that all of our patients are comfortable and well-fed. In fact, we even have an on-site kitchen that provides all patients with healthy meals and snacks. 
There are also few treatment centers that offer as many amenities as we do. For example, if you like to exercise between treatment or therapy sessions, you can play volleyball on our volleyball court or basketball at our basketball court. You can also work out in our exercise room.  
Rather explore the area? Well, lucky for you, our Free by the Sea facility is located on the Long Beach peninsula right next to the Pacific Ocean in beautiful Ocean Park, Washington. Thus, you can take walks on the beach while also receiving high-quality addiction treatment while here. Addiction treatment cannot get much better than that. 
Don't Wait. Call Today!
At Free by the Sea, our community of dedicated professionals is committed to providing care to all individuals with dignity and respect. Client-centered care that's respectful of every person's individual needs and concerns is the foundation of our approach. We also adhere to evidence-based practices that are focused on successful outcomes for long-term recovery. 
Whether you're looking to attend inpatient or outpatient addiction treatment we have treatment programs that can help you. We also offer a wide range of addiction therapy services. For example, we offer individual and group therapy, EMDR, dialectical behavioral therapy, cognitive behavioral therapy, telehealth therapy, and more. 
Addiction harms not only the individual, but also his or her family members. Don't hurt yourself or the people you love most by avoiding the treatment that you need. Whether that treatment is crystal meth treatment or treatment for some other substance, one thing is for sure, it's best to receive it at Free by the Sea.
To learn more about Free by the Sea and the addiction treatment programs and therapy services that we offer, contact us today. We are more than willing to answer any questions that you may have.